This is Part 2 (read part 1 here) of a guest post series "Inbound Marketing is the Future of eCommerce" by Katie Hudson (@kt_hudson). Katie is the Marketing Manager for Demac Media, an award winning eCommerce agency headquartered in Toronto. She is directly responsible for the company's Inbound Marketing strategies, blog, social media channels and corporate events. Katie's skill and experience have helped position Demac Media as a major thought leader within the Canadian eCommerce landscape.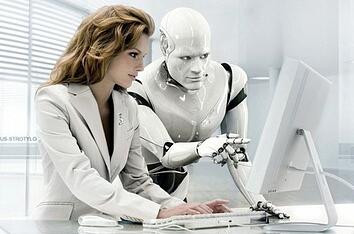 Great content should be the focus point of your marketing efforts to ensure the future success of your online store. Why? Because customers are information seekers at heart, especially when they buy online, so what better way to "feed their need" than to give them what they really want?
7 Ways to Win Inbound eCommerce
Common research and evaluation practices of customers include not only price comparisons but the search for a great experience. Many consumers are still apprehensive about buying online, so put their fears to rest with engaging content that will help answer their questions, make them feel more confident about purchasing your product and give them an experience they will remember!

Here are some basic strategies to help get you started building better and stronger content for your online store:
1. Write Unique Content
Remember to give the maximum amount of information to your shoppers. Make sure to include the following on all your product pages:
Product Names (especially brand names)
Descriptions
Keywords (sizes, colours, styles)
List of features
Pictures
Video
Someone once told me that in eCommerce you're essentially selling through a photo, and when you think about it, it's true. You simply don't have the luxury online to feel or try on a product, like you do when you shop in-store. The more content you have online (pictures, descriptions, videos etc.), the more the customer will learn and understand your product, which ultimately assists them in their purchase decision.
2. Develop an online presence
You will need avenues to push your content out on the web, so it goes without saying that it's critical to develop an online presence. Whether this is through an active blog or Twitter and Facebook accounts, it's important to connect with your audience online! Be interactive, be genuine, and be timely. Being interactive online with your customers helps to put a face behind your brand, and make it more human. Customers enjoy the connection or bond social media gives, and don't like to interact with anti-social, old-fashioned companies.
3. Create downloadable buyers guides
Ideal scenario: let's say I want to buy a DSLR camera, but I've only been a point-and-shoot user my entire life. My knowledge around DSLR's is pretty limited, so I start my search on the web. How great would it be if I landed on a site that not only had a great selection of cameras, but also had a downloadable buyers guide that would help me figure out which is the best camera based on my needs, experience, and budget? Content like this can really speak to customers, and help them better understand what products are right for them. Sure customers could go through various websites one by one, looking up pieces of information about each camera, but it's so much more convenient if the information were laid out in a simple downloadable ebook. Giving away helpful, informative and engaging content like that is going to prove you to be an expert your field, and increase the level of trust between you and your customer.
4. Create how to videos
There's no better way to instill confidence in buyers with a little DIY (do-it-yourself) video!
By using the products you sell in an easy to follow how to video, you're helping to teach your customers how to effectively (and creatively) use your products. Once again, the more confident an online shopper is, the more likely they'll actually buy from your store. You want to aim for a reaction like "Hey! I could do that!"
5. Encourage Customers to write reviews
This is good for two reasons. First, it proves that people are actually buying your products and enjoying them. Second, it encourages other customers to write reviews. This can even help to create a sense of community on your site, by having various customers speak about one common product and their experiences with it. Just make sure you're not only including positive reviews. Allowing negative reviews shows you're not hiding anything and gives you the opportunity to do something about it! Is there something you could have done better? How can you ensure the customer has a better experience next time? Use those poor reviews to improve upon your processes, and create an overall better experience for future customers.
6. Set Up Shopping Cart Abandonment Workflows
According to a study by Paypal and comScore, 45% of Americans* will abandon their cart multiple times every month. It's inevitable that customers are going to abandon their shopping carts, so don't waste this opportunity to stay in touch! Remember customers aren't necessarily ready to buy when they visit your site (as mentioned earlier in this post). Sometimes all they need is a little time, and reinforcement that they're making the right decision. So set up shopping cart abandonment workflows to engage with those who decide to jump ship. Just don't always be so quick to give away discounts or promotions, as not all customers are price-sensitive. Maybe they just need more information or clarity on what they're buying!
Pro Tip: Read the step by step guide to shoping cart abandonment workflows using HubSpot
7. Post-purchase Follow-up Emails
Finally, by using marketing email software, merchants can set up campaigns that send post-purchase follow-up emails to customers. Marketing automation is a great way for customers to stay engaged with the merchant, and encourage recurring purchases, which helps to increase the overall Life Time Value (LTV) of a customer. This is also a great way to encourage your customers to submit product reviews and offer feedback on their overall shopping experience. If you don't give your customers these opportunities, it's very unlikely they will do so on their own.
Bonus! Real World Examples:
Here are a couple great real life examples of mid to large size merchants utilizing different aspects of content marketing to engage and inform engaged their customers:
1. Great social interaction: Bench Canada
Bench Canada does a great job interacting with their customers online, especially through their Facebook page. As you can see from the picture below the 40% off sale has been shared 11 times, with 81 likes, and has a representative from the company actively commenting on the post to ensure customer's questions are being answered!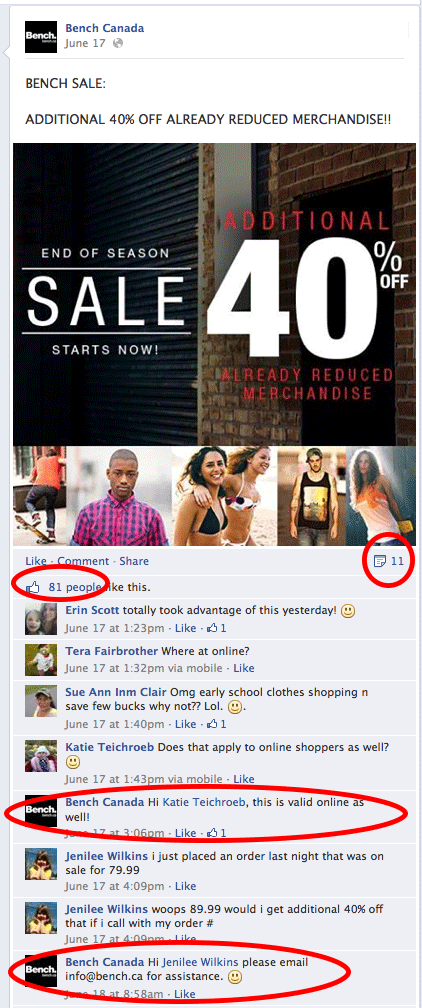 2. Excellent Product Page: Snuggle Bugz
The Snuggle Bugz product page for the Diono Radian RXT car seat is top notch. It hits all of the major points for great content. It includes the brand in the product name, gives shipping/pickup information, detailed product description and feature list, videos, pictures, and reviews!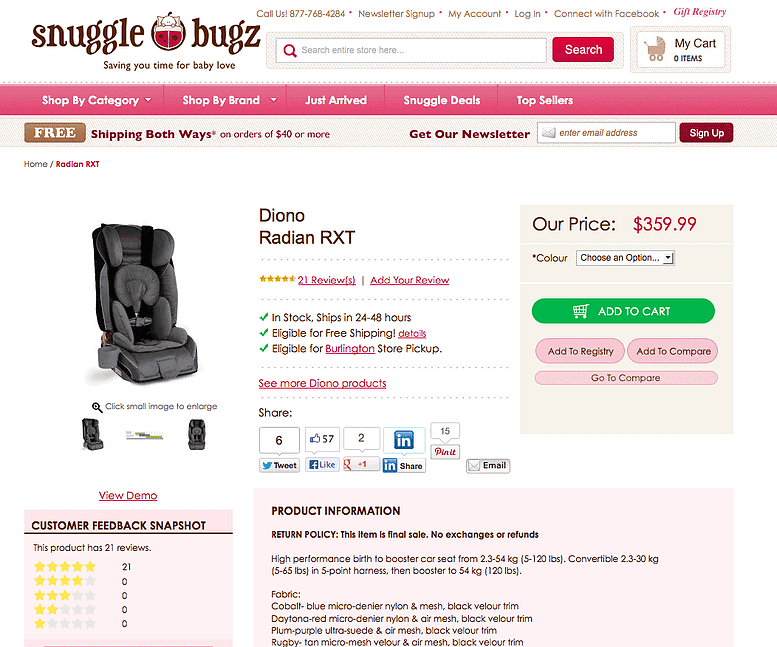 3. Awesome How To Videos: The Home Depot
The Home Depot has an amazing YouTube channel filled how to videos showcasing the products they sell. What better way to give your customers the confidence they need to take on everyday household projects with step by step videos!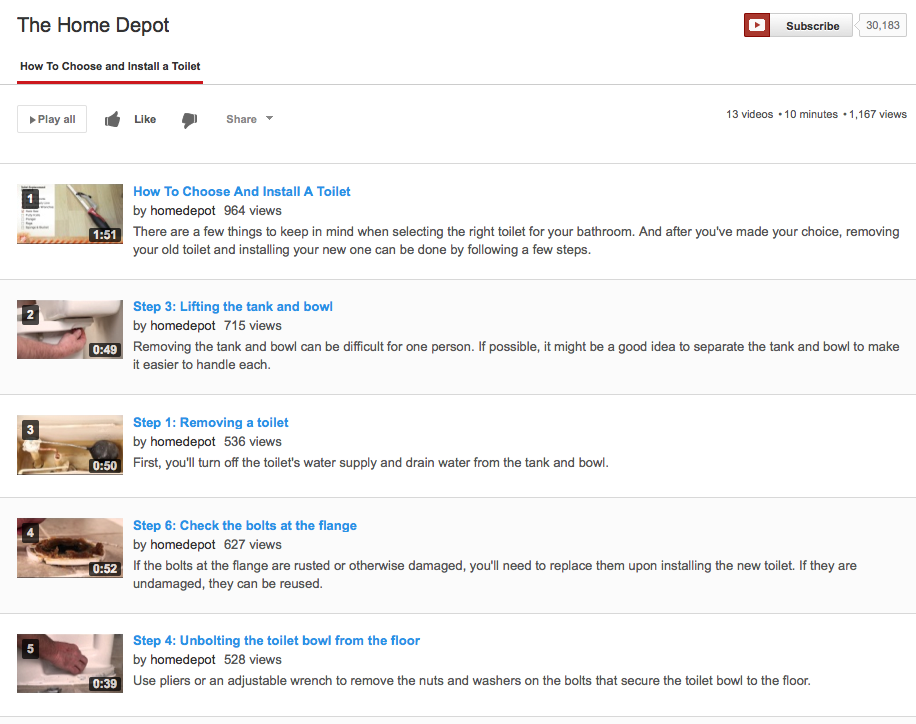 Tying it all back
$97,680.10
So yes, that is a scary number. But just remember that even though Amazon might be a giant in the eCommerce world, their diverse inventory creates a huge challenge in identifying and nurturing micro personas in a highly targeted an effective way.
Your inbound marketing strategies can allow you to compete with heavy weights such as Amazon by not focusing on price to increase traffic and conversions. Effective content creation can help to address the dynamic buying cycles of customers and give you the advantage to win in eCommerce.
Happy converting!