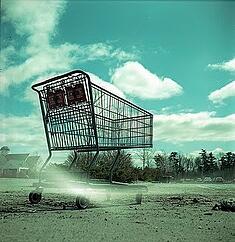 Abandoned cart nurturing is the process of sending emails to visitors whom have started a checkout process, but did not complete the checkout process. According to 19 different studies containing statistics on e-commerce shopping cart abandonment, the average cart abandonment rate is 67%. That's a lot of potential customers getting to the final stage of purchase without actually becoming a customer. You as an eCommerce business should ensure that you are doing the best you can to convert these visitors into paying customers. An effective tactic to do so is a process called abandoned cart nurturing. All-In-One Marketing tool HubSpot has a whole suite of tools to help increase your business, the one I am going to feature today is Abandoned Cart Nurturing.
Abandoned cart nurturing is one of the more effective applications of HubSpot for eCommerce businesses. When setup correctly, abandoned cart nurturing is sure to increase conversion rates and, in some cases, pay for the subscription of HubSpot itself! The ROI of abandoned cart nurturing is just that good.
Still not quite sure what Abandoned Cart Nurturing is? Watch this short video for an introduction:
Step by Step Abandoned Cart Nurturing in HubSpot:
Step 1 - Integrate your shopping cart with HubSpot
The easiest way to integrate your shopping cart is with a shopping cart integration from HubSpot's App Marketplace. HubSpot has integrations for BigCommerce, Magento, Volusion, and Shopify. If your shopping cart is not listed in the app marketplace, or you want to integrate the cart yourself, you will need to create a custom integration between HubSpot and your shopping cart via API's (HubSpot's API Documentation).
Here is a high-level description of a custom integration app:
On a regular interval (hourly, daily, etc...), poll HubSpot for new/updated leads, and insert/update those leads in custom database
On a regular interval (hourly, daily, etc...), poll the custom database for new/updated leads, and insert/update those leads in HubSpot
There are four HubSpot API Methods used to build this type of integration:
Step 2 - Setup Smart Lists
Once your shopping cart is integrated, you want to next setup dynamic smart lists to aggregate users who both start and complete checkout's of your shopping cart. You do this by creating smart lists with criteria of Form Submissions:
1. Started Checkout List: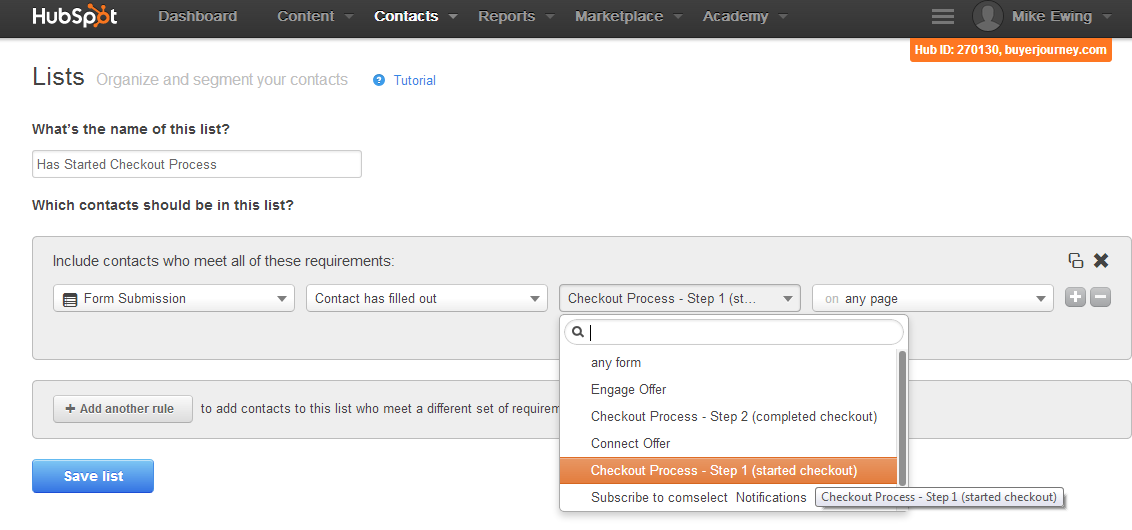 2. Complete Checkout List:



*You must have a 2 step checkout process for this example to work for you.
Step 3 - Write Abandoned Cart Email
You now need to write the email that you are going to use in your Abandoned Cart nurturing campaign. The example I am going to show is for a simple, one email follow up for an abandoned cart. I typically recommend a three step email sequence, however, you can get started with Abandoned Cart emails with a simple one like the example below: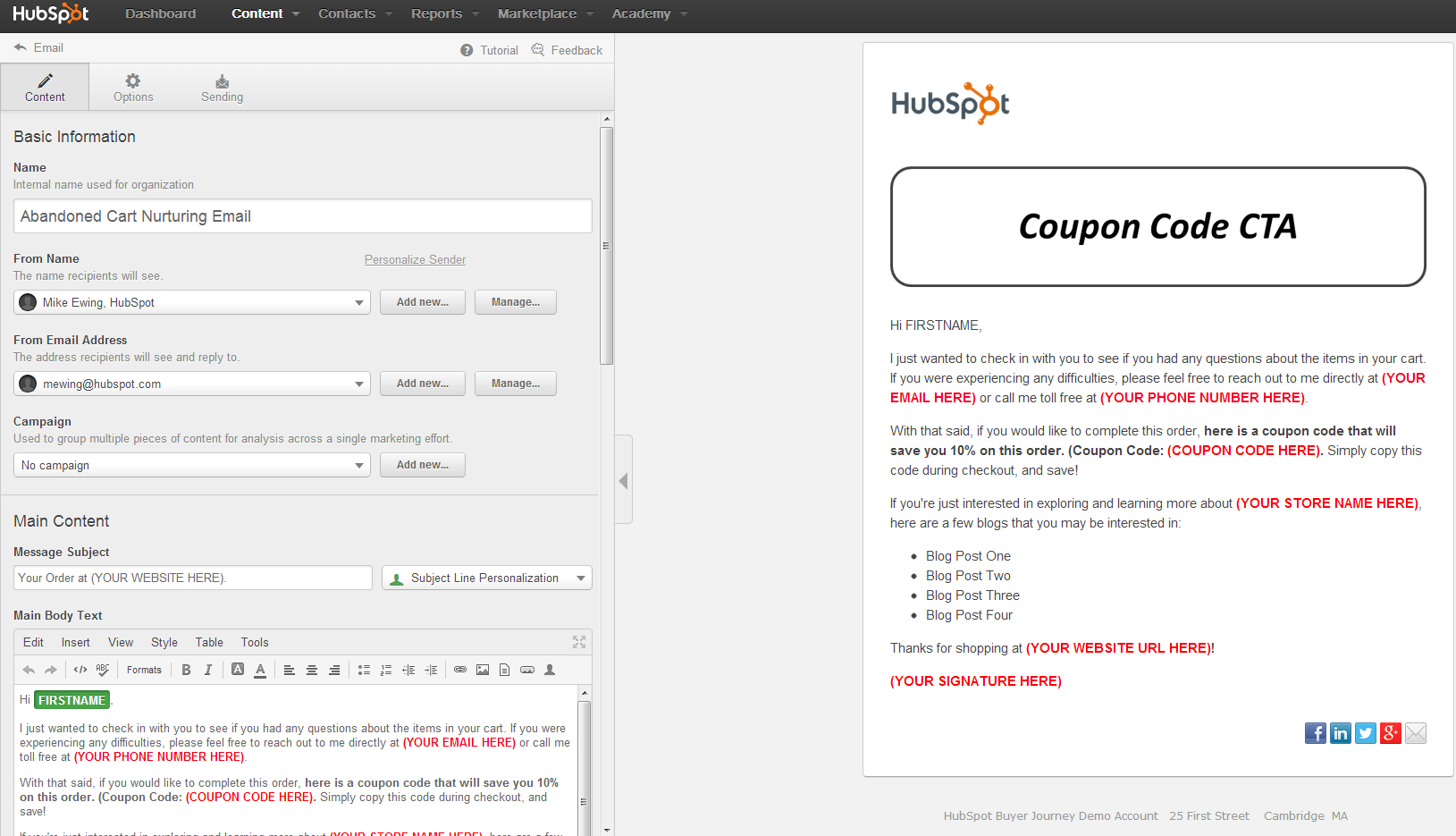 Notice the use of a big CTA for a coupon code for the user to be incentivized to complete their purchase. I suggest to use this value based approach when setting up a simple one-email nurturing program AND you still make good margins on the purchase with the coupon incentive.
Here is the template for the email if you want to use it:
Hi there,
I just wanted to check in with you to see if you had any questions about the items in your cart. If you were experiencing any difficulties, please feel free to reach out to me directly at (YOUR EMAIL HERE) or call me toll free at (YOUR PHONE NUMBER HERE).
With that said, if you would like to complete this order, here is a coupon code that will save you 10% on this order. (Coupon Code: (COUPON CODE HERE). Simply copy this code during checkout, and save!
If you're just interested in exploring and learning more about (YOUR STORE NAME HERE), here are a few blogs that you may be interested in:
Blog Post One
Blog Post Two
Blog Post Three
Blog Post Four
Thanks for shopping at (YOUR WEBSITE URL HERE)!
(YOUR SIGNATURE HERE)
------------------

Finally, you need to make sure you save the email for Automation: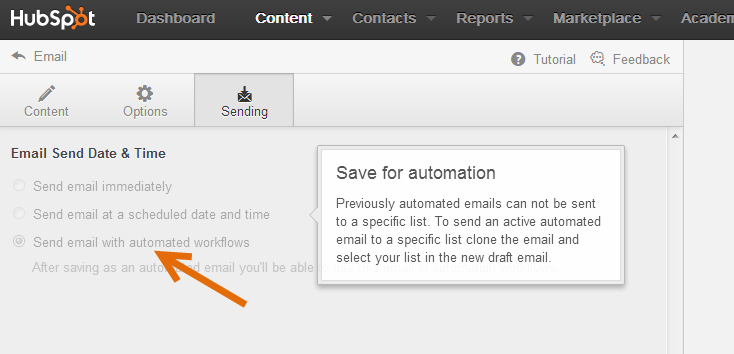 Step 4 - Setup Your Workflow
You should now have the majority of your abandoned cart campaign setup. The next step is setting up the workflow. Replicate the below example: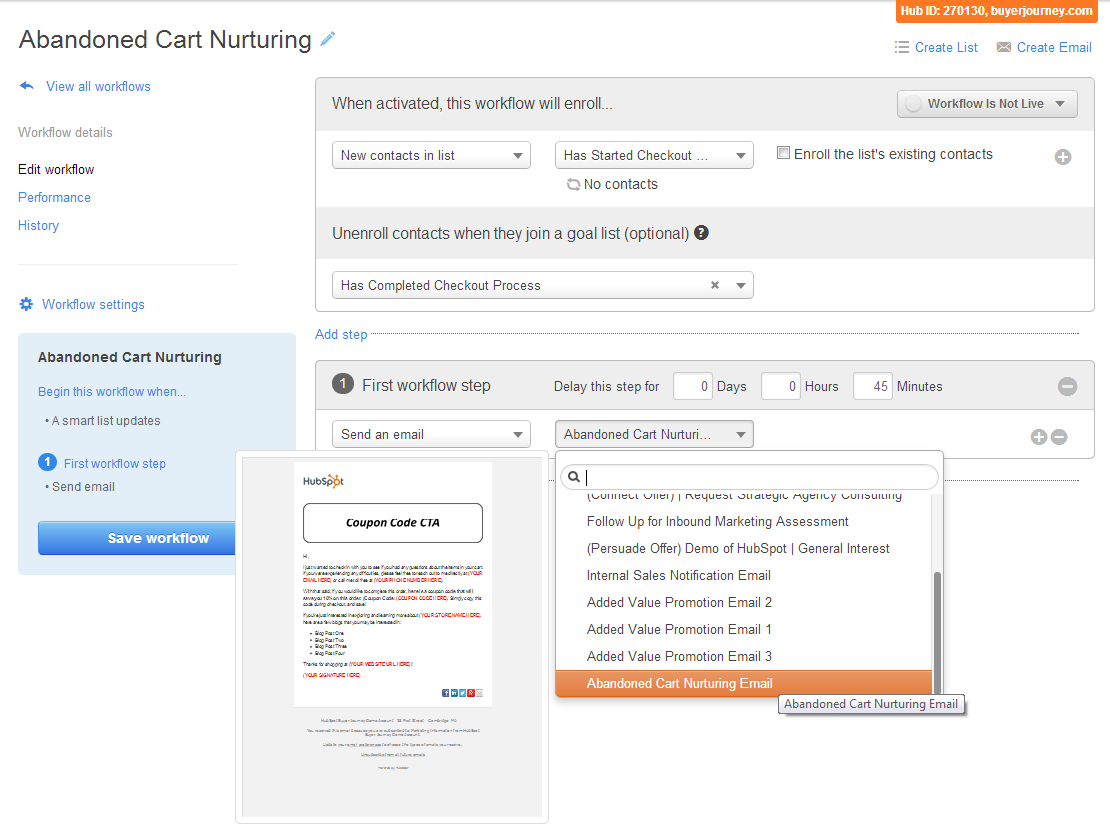 The steps for setting up the workflow are:
1. Choose "New Contacts in List" and "Has Started Checkout" list
2. Set the Goal as "Has Completed Checkout Process" list
- This means that contacts who complete the checkout will be removed from the workflow and will not receive the abandoned cart email you que up in the next step
3. Click Add step
4. Set delay for the desired delay you want. 45 minutes delay is a good time to start experimenting with.
5. Click Select an action dropdown and choose "Send an Email"
6. Choose your Abandoned Cart Nurturing Email
7. Make sure you activate the workflow!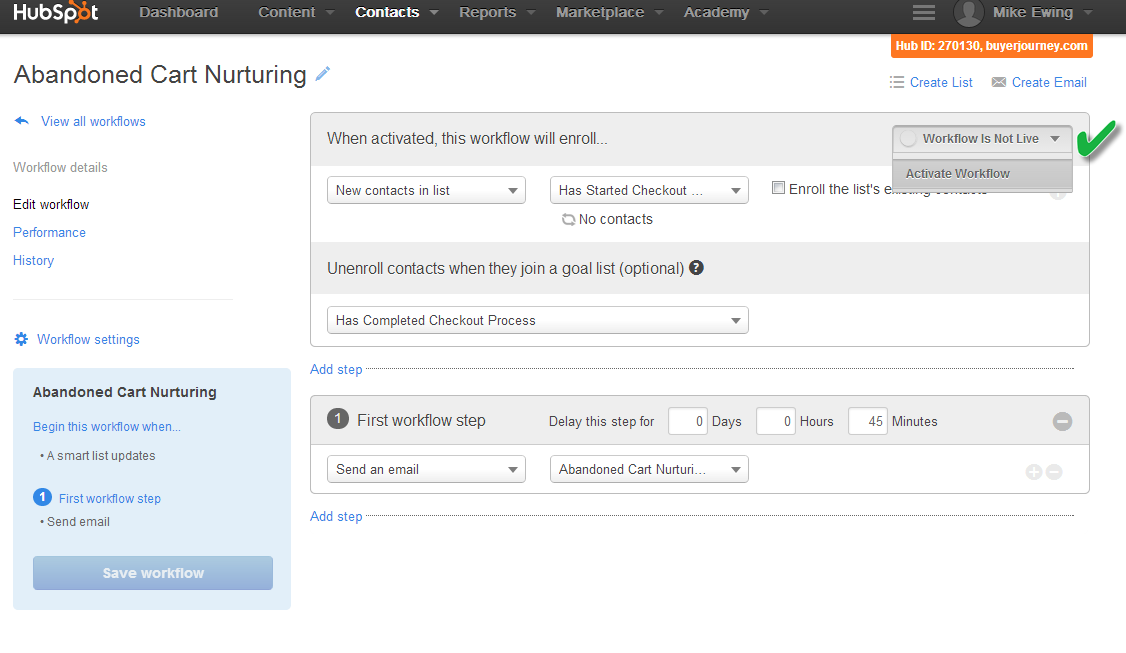 Congrats!! If you've followed these steps, you've now setup your first abandoned cart nurturing campaign!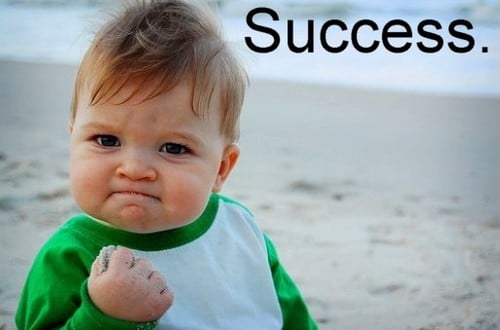 Want to learn more about how to execute Inbound Marketing for eCommerce?
shopping cart image credit: sascian.blogspot.com