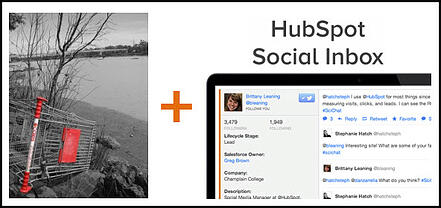 HubSpot recently released a very cool social media app that should be used by all smart eCommerce marketers - Social Inbox. Social Inbox is similar to other social media management software like HootSuite, with one big feature that sets it apart. The game changer that Social Inbox brings is that it is connected to your Contacts database. This means that you can create monitoring feeds in Social Inbox that are generated from dynamic contact lists. I know what you're saying - whoa! no waay! this is incredible!! OK, you probably didn't get very excited about this revelation - if you did, contact me - we're hiring!
One of the more powerful examples that Social Inbox enables is social media abandoned cart nurturing. Let's say that someone visits your store and adds an item in their shopping cart. They hesitate to purchase and go to social media for opinions about your store before they purchase. Maybe they want to know if you are legit and have good customer support? Or maybe they want to know more about the item they are purchasing. Often times shoppers will go onto Twitter to start these conversations. Now you can be apart of them.
Increase Conversion Rates with Social Media Abandon Cart Nurturing
There will be times when your potential customers are hesitant to complete their purchase and head to social media to discuss their options. You should monitor these conversations and assist any that need help in this critical time.
Here is how to set it up:
1. Setup your Abandoned Cart Smart List:
If you're shopping cart has a two step checkout process, you will want to setup up the list to say "Contact has filled out Started Checkout" AND "Contact has not filled out Completed Purchase"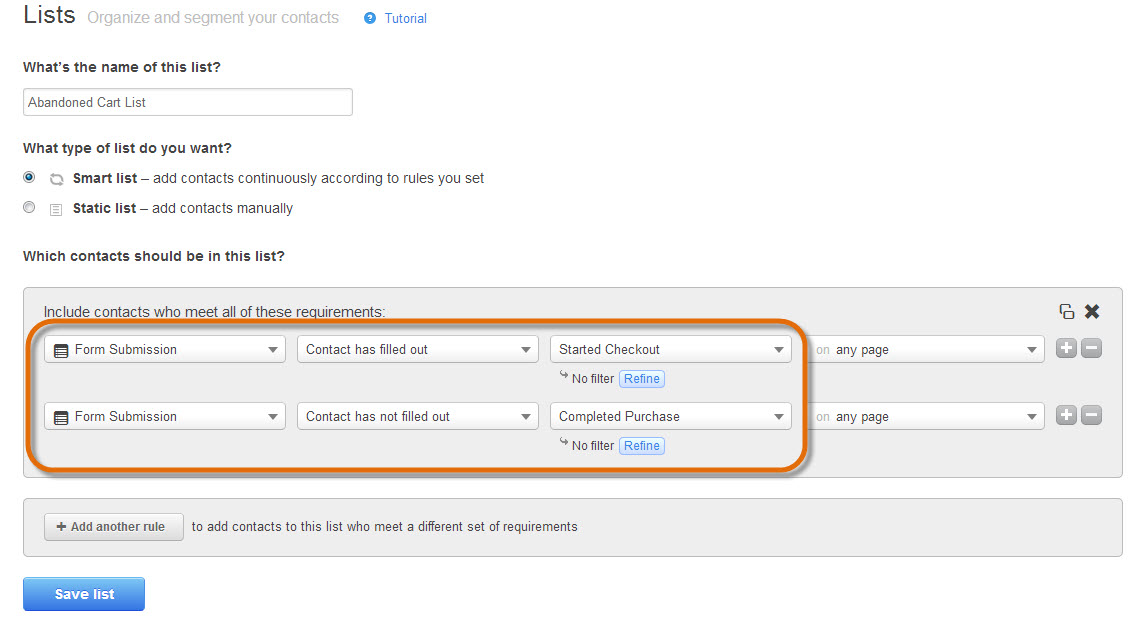 2. Setup Social Inbox Monitoring Feed
Navigate to Social > Monitoring and Create a New Stream

Next, setup the stream to include the Smart List "Abandoned Cart List" and includes the keywords of your company name. Then tell HubSpot to email you immediately when results are found!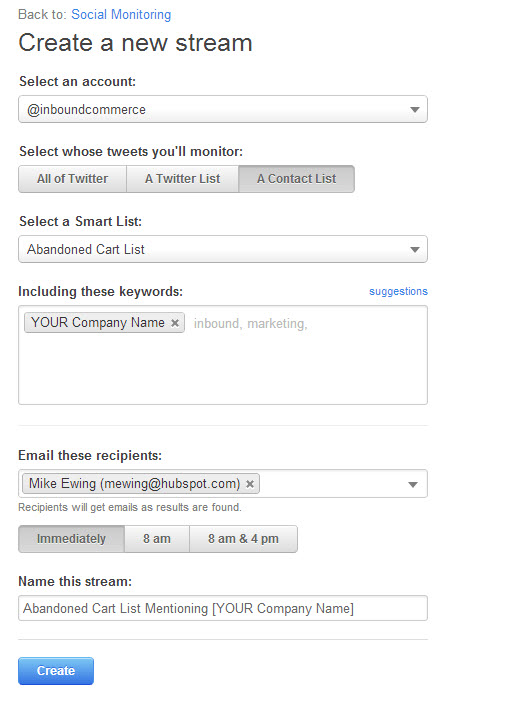 Congrats! You're now setup and ready to assist customers hesitating with their purchases.
Be sure to customize this list to your business and shoppers social media interactions. For example, if you sell yoga pants as the primary product, you may want to include keywords like "yoga pants". Another of many options is to include keywords of your competitors. Or keywords for popular brand names you carry. Get creative!